Spouting Services
Rainaway Spouting on the Spot is your local one-stop shop for spouting, fascia and downpipe needs in New Zealand.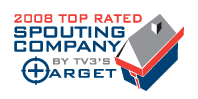 Gutter and Spouting Specialists
Rainaway is one of New Zealand's premier spouting, gutter and fascia company. With an extensive range of franchises, we are here to ensure that water runs through your gutter, not your home.
Ignoring A Spouting Problem Today Could Create A Leaky Home Tomorrow.
Choose the Best Spouting Solution for Your Home
Established over 20 years ago, the Rainaway Spouting on the Spot team is well-equipped to handle cleaning, repairs and maintenance of residential spouting systems. Talk to us today for a tailored approach to your home.
Replacing and Maintaining Spouting and Fascia
Whether your home needs replacement spouting, restoration, removal of leaves, debris and any other items; our team can help. Regular maintenance of spouting systems keeps them running smoothly and functioning the way they should; protecting your home in the long-term
Spouting and Fascia Installation for New Homes
Our technical know-how and commitment to quality allows us to tackle comprehensive spouting tasks with ease. For all types of homes, Rainaway Spouting on the Spot installs reliable and long-lasting systems purposed for New Zealand conditions.
Supplying and Installing Gutter Guards
Gutter guards protect your gutters from potential blockages, promoting the longevity of your system and reducing the workload required in home maintenance. Our team supplies high-quality gutter protection with a wide selection of products for your needs.
" Hi Aaron and Kelvin,I just want to tell you both how happy I am with my new Spouting.Craig was a very pleasant, obliging,and helpful Man to deal with. He did everything I asked to be done how I wanted it ,to the letter. Toa was also a pleasant young Man and an excellent installer. I could not be happier especially now, that the rain is on the way. I would happily recommend Rainaway to any of my friends who need Spouting.Thank-you both for having such good Men working for you. Take care keep up the good work…"
H Richards
" Many thanks to John and his team an excellent job well done and we could not be more pleased with the result. Would highly recommend the team and the product. Thanks again…"
Gavin and Yvonne
Dunedin
"Great job. Impressed with all staff: Measurer, remover, cutter and installers.
Please pass on our thanks for the job – well done. Will definitely refer you to all our friends an…"
John Sadgrove
"Hi there, Thanks very much for doing the job. Your installer was professional, couldn't believe he did it all alone – and a great job. The best thing was that you can give an on th…"
Mohammed
"This is a big thank you. Early this year, I decided that it was well time to replace my guttering. As I always do, I called for 3 quotes and I chose your company, Spouting on the S…"
Brian Beamiss
"Really pleased with the result – really adds value to our house and exceeded our expectation. Would definitely recommend you…"
Allan and Bernice Carlene